Jan 24, 2014
---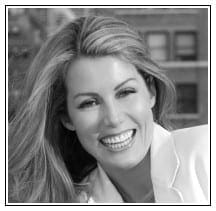 Meet Dana James, MS, CNS, CDN, the newest member of Essential Formula's distinguished Science Advisory Board, which consists of nationally recognized physicians, health care practitioners and researchers in the field of integrative medicine.
This distinguished group of medical and scientific professionals provides Essential Formulas with ongoing commentary about probiotics and various dietary supplement and skin care products. Advisory Board member responsibilities frequently include the critical review of EFI products and relevant research regarding a variety of dietary supplement products. The Advisory Board provides special guidance to EFI concerning education and awareness programs in the scientific community as well as to the general population.
Dana James is a board-certified nutritionist, functional medicine practitioner, cognitive behavioral therapist and the founder of Food Coach NYC, a nutritional therapy practice based in Manhattan. She established her practice after training at London's Bio Brain Clinic, an outpatient facility specializing in depression and addiction, where she witnessed the power of food and nutrition in moderating brain chemistry, mood and behavior. Ms. James earned her Master of Science in Clinical Nutrition from the Institute of Optimum Nutrition in London, England in 2007 then went on to become a Certified Nutrition Specialist (CNS) and a New York State registered Nutritionist (CDN). Her professional affiliates include the American Association of Drugless Practitioners (AADP), British Association for Nutritional Therapy (BANT), and the Institute for Functional Medicine (IFM). Ms. James is currently studying for her fellowship in anti-aging, regenerative and functional medicine at the American Academy of Anti-Aging Medicine and is a frequently sought after radio and television guest and expert source on nutrition.