REG'ACTIV® Immune & Vitality™ Honored
with Better Nutrition Magazine's
2021 "BEST OF SUPPLEMENTS" AWARD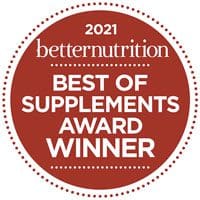 ---
Dallas, TX – September 20, 2021 – Better Nutrition Magazine recently selected the revolutionary formula, REG'ACTIV® Immune & Vitality™, as a 2021 'Best of Supplements' Award Winner in the IMMUNITY category.
To select the winning products, the editors of Better Nutrition magazine conducted retailer surveys and tallied upvotes from readers and staffers. The Better Nutrition Supplement Advisory Board, consisting of naturopathic physicians, health writers, and nutrition educators, considered the quality of the nominated supplements of ingredients, reputation, and the science behind the products. The winners will be featured in the November 2021 issue of Better Nutrition Magazine.
REG'ACTIV Immune & Vitality, launched in 2014 REG'ACTIV Formulas are superior Glutathione supplements containing a patented delivery system — a living probiotic strain, Lactobacillus fermentum ME-3 that produces Glutathione within the body. Glutathione is the most critical antioxidant manufactured in the human body, so pivotal to our health that it is considered "The Master Antioxidant."
REG'ACTIV Immune & Vitality formula combines the Glutathione producing probiotic ME-3 with Lactobacillus brevis KP08. A novel probiotic strain from Japan, KP08 promotes the balanced production of interferon-α, which supports a healthy immune response.
This unique probiotic formula provides highly synergistic immune system effects and contains amino acid L-Carnitine tartrate to support healthy energy levels," said Essential Formulas Director of Science, Dr. Ross Pelton, RPH, Ph.D., CCN. "Essential B-vitamins and vitamin C provide additional support for immune health, balanced metabolism, and energy production."
REG'ACTIV Immune & Vitality was also a 2017 recipient of the Taste for Life Magazine's "Immunity Essentials Award."
###
Contact: Kelly Charles ~ Kc Communications ~ 972-943-0373 ~ kelly@kcharlescommunications.com