Dr. Ohhira's Probiotic Magoroku Skin Lotion
Probiotic Moisturizers That Rejuvenate Your Skin Naturally*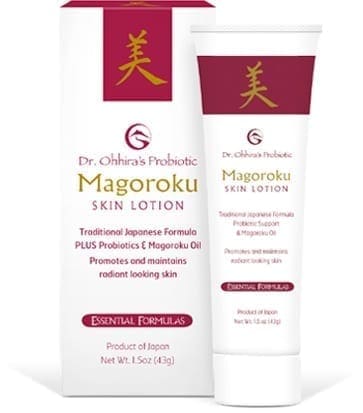 Dr. Ohhira's Probiotic Magoroku™ Skin Lotion combines the rejuvenating powers of natural ingredients, ancient Japanese fermentation skills, and 21st century technology to create a superior clarifying, moisturizing and revitalizing experience. This exclusive formula, created by award-winning microbiologist 
Dr. Iichiroh Ohhira
, melds probiotic and prebiotic nutrients along with wild plant and fruit extracts. The proprietary blend supports the balanced ecology necessary for healthy skin. Magoroku™ is formulated for daily whole body moisturizing and highly effective as a hand cream. While perfect for very dry skin, it is not heavy and is gentle enough for use on the face.

Chemical-free, Hypoallergenic, Natural Moisturizer
Formulated using the revitalizing powers of natural ingredients, Japanese artistry, and modern science to create a soothing treatment ideal for dry, sensitive, stressed or damaged skin. These remarkable lotions contain friendly bacteria, their nutritious culture medium, and restorative postbiotics along with the added benefits of wild plant and fruit extracts. Traditional skin-friendly Magoroku (equine oil) is readily absorbed along with the nurturing ingredients, so only a small amount is required for optimum results.*
Used for centuries, highly prized Magoroku was likely brought to Japan during the Tang Dynasty by the equestrian people of ancient China. Modern science now confirms that Magoroku oil contains skin-conditioning alpha-linolenic and linoleic acids that cannot be produced in the body.
Your skin easily absorbs the natural ingredients, which are carried by traditional skin-friendly Japanese Magoroku (equine oil). Modern science now confirms that Dr. Ohhira's Magoroku oil contains essential fatty acids that are similar to human dermal oils. This gives it a high degree of absorbency to support natural dermal rejuvenation.
Great for use after shaving! Our all-natural ingredients help to keep your freshly shaved skin soothed and hydrated to help prevent razor rash.
Dr. Ohhira's Probiotic Magoroku™ Skin Lotion ingredients include:
Probiotic and botanical extract
Aloe barbadensis leaf extract
Prunis persica (peach) fruit extract
Eriobotrya japonica leaf extract
octyldo-decanol
stearyl glycyrrhetinate
Magoroku (equine oil)